Nieuws
Festival Club Canapé: nationaal huisconcertfestival, 17 t/m 27 november 2011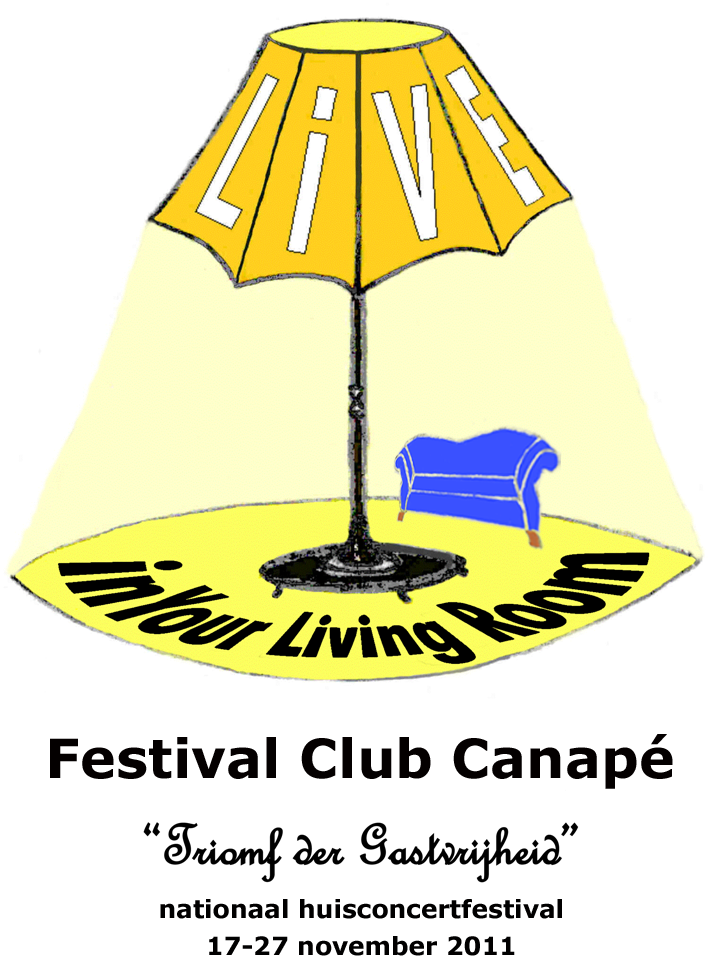 Vijftig concerten, tachtig acts. Van 17 tot en met 27 november as., in verschillende woonkamers verspreid over het land. Dat is de tweede landelijke editie van Festival Club Canapé, het jaarlijks terugkerende festival van huisconcertnetwerk Live in Your Living Room.
Onder het mom van "Triomf der Gastvrijheid" wil Live in Your Living Room met het festival de kwaliteit en intimiteit van het huiskamerpodium benadrukken. Gastvrijheid van de host, en gastvrijheid van de act die het publiek puur en dichtbij in zijn muzikale wereld uitnodigt. Deze opzet van concerten staat al negen jaar voor een bijzondere muziekbeleving. Een greep uit de acts die deelnemen: Dazzled Kid, Celine Cairo, The Cosmic Carnival, Fuck the Writer, Melle de Boer, Henk Koorn, Beatrice & Vera van der Poel, Arthur en heel veel nieuw aanstormend talent.
Wil je je als host of artiest opgeven voor deze editie van Festival Club Canapé, dan kan dit nu nog steeds via clubcanape@liveinyourlivingroom.nl.
Lees verder ook:
De huiskamer als muzikale ontdekplek
Intieme concerten op bijzondere locaties
Festival Club Canapé is terug. Eerste halte: Rozengracht
Huiskamerrock met Scram C Baby, Awkward I en GRAM
Live in Your Living Room: intieme roomwarming met Eric van Dijsseldonk en John Carrie and Moor Green
Festival Club Canapé: intieme muziek bij je thuis